AMERICAN POPULAR CULTURE BEGAN WITH BING ~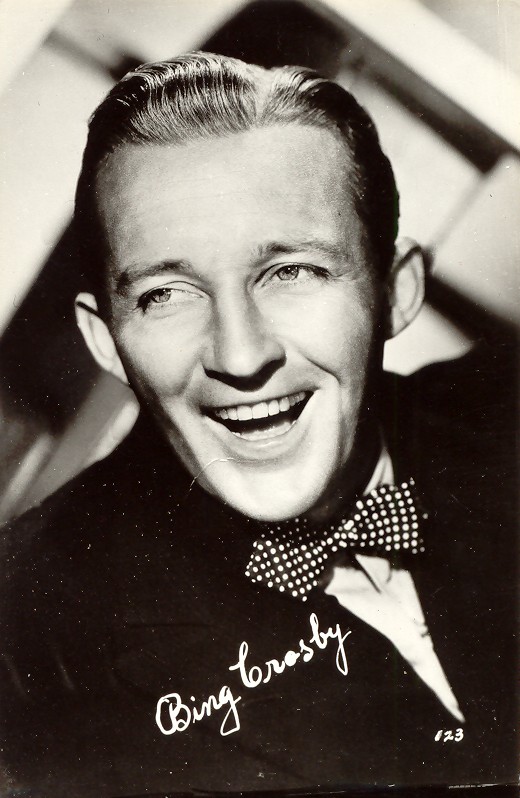 To
Louis Armstrong
, his voice sounded like gold being poured out of a cup.
That mellifluous baritone with the texture of velvet, the color of mahogany, and a bubbly vibrato with the resonance of a built-in echo chamber, became the most instantly recognizable musical sound in the world. As the electronic age matured, he became the world's first multi-media superstar and one of the most resonant figures in an American popular culture that he created. As far as
Duke Ellington
was concerned, he was simply "the biggest thing ever!"
Bing Crosby's
casual demeanor and enigmatic grace were typically American.
Artie Shaw
called him the first hip white person born in the United States. He was, in fact, the complete personification of
cool
; and his ability to sustain for
three decades
the image of his generation's jaunty youth enabled him to maintain his hold on an enormous public. But Crosby wasn't the greatest entertainer of the century because he was cool. He was the century's most influential entertainer because his arrival was the defining moment in American popular culture and American popular entertainment.
When
Der Bingle
made his first recording (
I've Got the Girl
in 1926), what might have been termed popular music was a kaleidoscope of styles. It could be either opera (
Enrico Caruso
), stage and minstrel (
Al Jolson
), blues (
Bessie Smith
), jazz (
Louis Armstrong
), country (
Vernon Dalhart
), burlesque (
Sophie Tucker
), or effeminate tenor (
John McCormack
). In other words, there was no such thing as popular music as we know it today. In fact, the term didn't even exist. It was later coined to describe the music he created.
He was born Harry Lillis Crosby in Takoma, Washington, on May 3, 1903. He received the nickname Bing from his fondness for a comic strip called the Bingville Bugle, for which reason his friends called him "Bingo from Bingville" and, eventually, simply Bing. And, he was born into the acoustic age, before electronic amplification, when singers had to fill entire concert halls with their voices. This was fine for opera, but it didn't allow for more intimate musical communication. It was also the era of vaudeville, when entertainers traveled the circuit and appeared in local theaters, parks, and schools, and when orchestras perform in nightclubs and concert halls. Phonograph records were just appearing in disc form, and the first Gold Record ~
Vesti La Giubba
(On with the Motley) from the opera
Pagliacci
~ had been recorded by Caruso in 1902.
Among the greatest confluences in history was Crosby's arrival at the dawn of the electronic era with electronic amplification, radio, and talking films. The enabling instrument was the newly invented microphone, which not only allowed for all the instruments in an orchestra to be recorded on records without having to bunch up in front of a gigantic horn, it also allowed a singer to sing at near conversational volume and yet be heard throughout concert halls without having to project to the rafters, and across great distances.
This was revolutionary for, like
FDR
, Bing understood the potential of the microphone, and he knew instinctively that he wasn't broadcasting to the masses, but to individual listeners in the intimacy of their homes in which he was a guest. It required his smooth, warm personality and approach to do this, because no other singer at the time could have done it.
It also revolutionized American music. Singing at conversational volume, Bing was able to play the microphone like a musical instrument, focusing on the lyrics, and the message in the song, something no singer before him had been able to do. He not only articulated words, he underscored their meaning, and thus became a song-writer's dream. He was not a deliberate innovator, like Sinatra, but learned his craft by trial and error. Still, he developed into a first-rate vocalist, and the new style allowed for individual interpretation and turned mere performance into personal expression. An aria sung by Caruso, Richard Tucker, or Luciano Pavarotti, sounds pretty much the same; but listen to
Mack the Knife
sung by Bobby Darin, Ella Fitzgerald, Louis Armstrong, or Frank Sinatra ~ and note the variety of styles. You can thank Crosby for that!
Where the popular image of the singer had been the effeminate semi-falsetto tenor, Crosby's baritone was virile and passionate, yet warm, relaxed and subtle, his style seemingly effortless and, most of all, swinging with a sense of rhythm that was both breath-taking and, at the time, ground-breaking. Above all, it was intimate, in a way music had never been. As Dick Hayme's mother described his approach, Crosby sang as if the two of you were in the parlor, and he was leaning over the piano with something terribly important that he wanted to say to you, now that you and he were alone.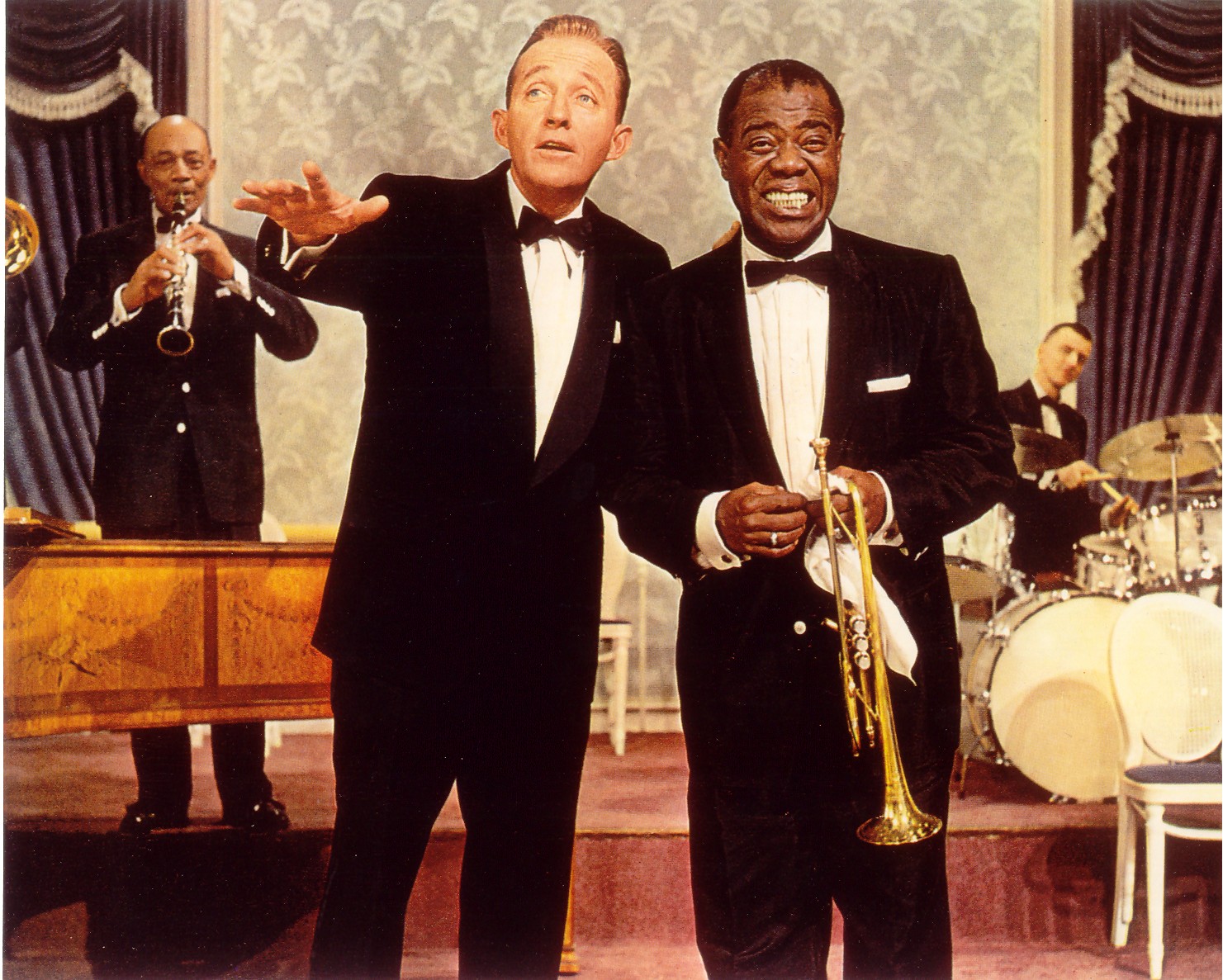 A quarter of a century before
Elvis Presley
became the "first" white man to sing like he was black,
Crosby
was
the first white man who sang like he was black. A savvy, inscrutable, and enormously talented musician, he was the first of his race to understand and assimilate the timing, rhythms, comedy and spontaneity of
Louis Armstrong
(with Bing, left). Armstrong, a natural musical genius, created modern jazz, and Bing became a major jazz figure; but it was popular music that he created, both as it was then and still is today. Every pop singer you can name ~ whether
Frank Sinatra
, or
Nat Cole
, or
Barbra Streisand
, or
Johnny Mathis
, or
Karen Carpenter
or
Tony Bennett
, or anybody else you can think of ~ flourished in an art form created by
Crosby
. It was Bing, drawing on the influences of
Armstrong
,
Bix Beiderbecke
,
Billie Holiday
, and other jazz legends ~
in what was still mainly a musician's world
~ who spread throughout the world the
Afro-American
idiom that became the very foundation and essence of American popular music.
El Bingo
rejuvenated the film industry during the Depression, and caused the rapid growth of radio. When he insisted on casting Armstrong in
Pennies from Heaven
in 1936, it was the first time a black actor would land a major role in a white Hollywood production. In 1939, Bing led the legal fight to allow radio disc jockeys to play phonograph records on the air. When his recording of
White Christmas
hit the streets in weary, war-torn 1942, it became the biggest-selling single of all time and launched the Christmas music industry we know today (Christmas music, while hardly unknown, was not a major industry before this). In 1946, he revolutionized the entire broadcast industry by insisting on tape recording his radio programs for future broadcasting,
the second most important development in 20th century entertainment after the advent of films with sound.
No film star had the Box Office run he had: No. 1 for five years in a row (1944-48) and in the top 10 for 15 out of 21 years, not to mention being nominated for three Academy Awards and receiving one. While it looked to many as if he was playing relaxed and easy-going Bing Crosby in all of his roles, this was deceptive. He was simply so naturally talented that he made it look easy, yet he did things on film no other actor could do. Director
Frank Capra
~ who worked with all the top stars of his time ~ rated Crosby one of the ten greatest actors in films.
He starred on radio longer than any other performer ~ from 1931 to 1954 on network, and from 1954 to 1962 in syndication. Yet, at the same time that his weekly radio program was No.1, he made 40 recordings a year, producing more hit records than Elvis and the Beatles combined. The greatest thing
Bing Crosby
accomplished, however, was actually less tangible ~ the reassurance he gave us during the Depression and the Second World War. He embodied the best of Yankee individualism, personified hometown decency, and became the voice of the nation. He was the most influential entertainer of the first half-century because, as biographer Gary Giddins put it, "more than anyone else he had come to define ~ at a time when national identity was important ~ what it meant to be American".
First and foremost, of course, Crosby was a singer, and he set records that have never been broken:
? He made more studio recordings than any other American singer ~ 1,700 between 1926 and 1977.
? He placed 394 single records on the Top 30 Pop Charts: 368 under his own name and 28 more as a band vocalist. [Bandleader Paul Whiteman had 220 Top 30" hits, Frank Sinatra had 209, Elvis Presley 149, Glenn Miller 129, Nat King Cole 118, Louis Armstrong 85, and the Beatles 68.]
? He recorded 42 singles and one album that reached No. 1, giving him a total of 43 No. 1 hits. [Paul McCartney ~ with and without the Beatles ~ had 31 No. 1 hits, the Beatles as a group had 24, and Elvis had 18.]
? He had 23 certified Gold Records (signifying sales of one million or more), beginning with Oscar-winner Sweet Leilani in 1937 and concluding with his final album, Seasons, recorded just before his death 40 years later. Perry Como had 22.
? He introduced 14 songs that were nominated for Academy Awards. Frank Sinatra and Fred Astaire each introduced eight.

Elvis is generally assumed to have surpassed Crosby in record sales, but the King's final decade was marked by total disintegration, and he was dead at 42. Bing recorded 10 albums in the last years of his life, six of them produced by Britain's Ken Barnes, all of them capping a discography that represents the very cornerstone of the American vocal tradition. At this writing, there are more than 130 Crosby compact discs for sale on various labels around the world. Some of his recordings have not been out of print for more nearly 80 years.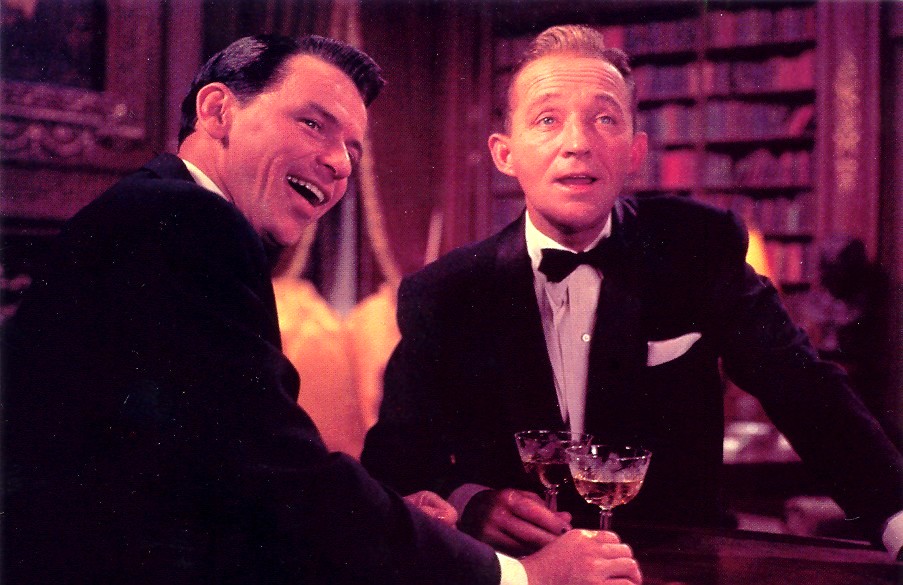 There is a line of demarcation in the 20th century that marks the dawn of our memories. As impressionist Rich Little put it, You're only as big as the generation that remembers you. Those of Le Bing's vintage are mostly gone and, as they leave us, memories of him go with them. We remember Sinatra (with Bing, right) because Sinatra thrived in the 1940's and 50's, and was recently active. Bing died in 1977, his music was outdated a quarter century before that, and his reputation was ruthlessly trashed ~ but you can forget the Daddy Dearest demonizing of Bing that followed his death. Those who knew the family well, including Buddy Bregman, Phil Harris, Bob Hope, and biographer Giddins, as well as all the nieces and nephews, flatly (and angrily) dispelled the lies. Bing was no monster, and he did not brutalize his sons.
Finally, he was artistically creative and revolutionized the industry in the 1930's, an era mostly long forgotten. The films of that era, the filming and recording techniques, even the often stilted acting, seem quaint and prehistoric compared to what developed with and after the war. True, he became an American institution with the war, especially because of White Christmas ~ still claimed by some to be the biggest-selling single disc of all time; but we've forgotten what a truly innovative and creative artist he was, what a universal impact on the 20th century he wielded, or what a truly marvelous voice he had.
Today's American popular culture began with Crosby. He revolutionized radio, phonograph recordings, film, and television. For ten years in the 1930's, popular music consisted of Crosby and everybody else singing like him. As his good friend Perry Como put it, "You either sang like Bing, or you didn't eat".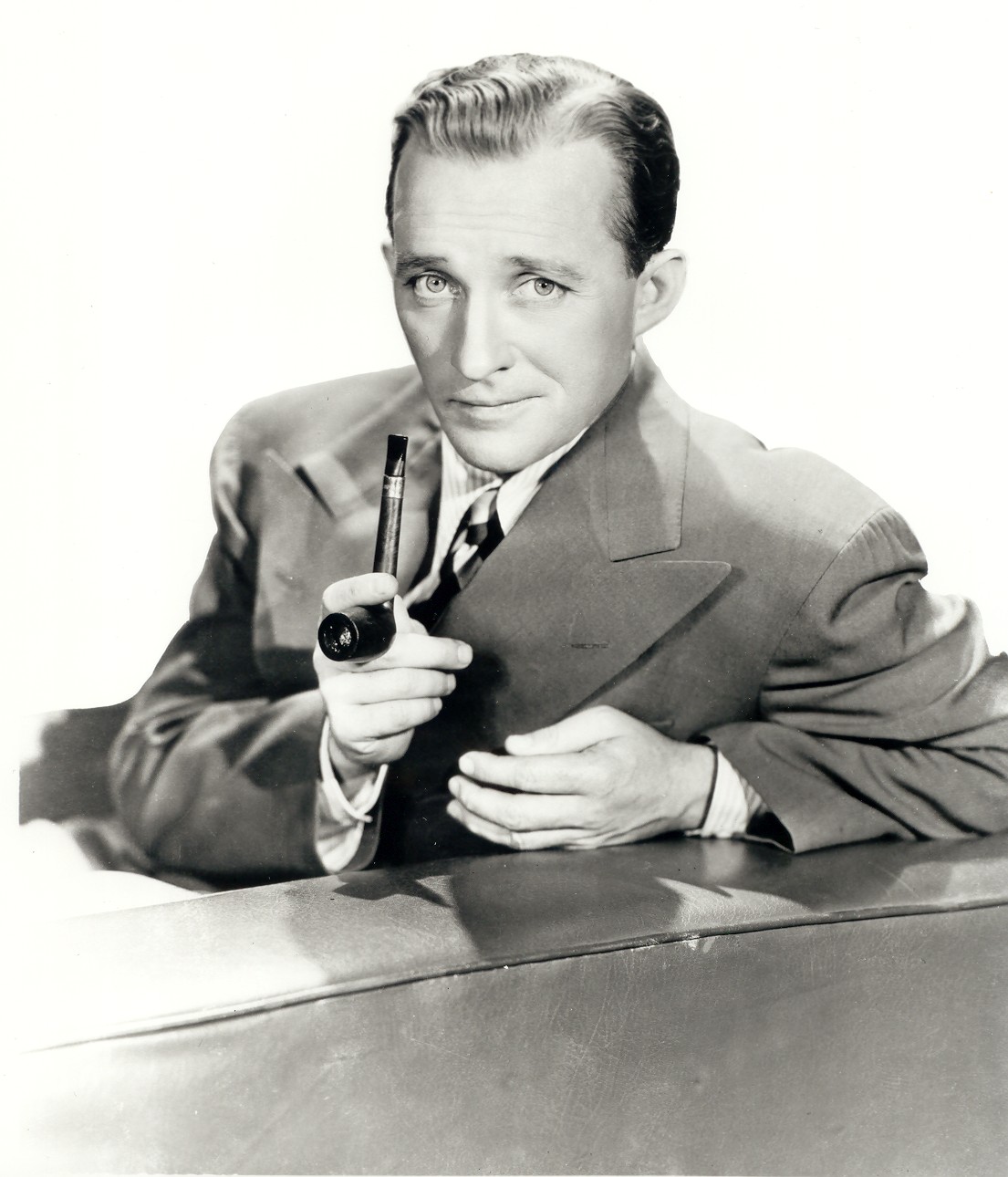 During the war, his voice was heard somewhere in the world every moment of the day, and would eventually be heard by more people around the globe than the voice of any other person who ever lived. He was so incalculably enormous that there has simply never been anything like him, before or since.
Bing Crosby came along when American entertainment was at a crossroads, with the coming of electronic recording, the universality of radio, and the emergence of jazz. Only he could show it which road to take, and he did. As Giddins put it, he "plaited the many threads of American music into a central style of universal appeal". But, he did more than that. "He taught the world what it meant to live the American dream. Aside from his music, that was the best part of his art, perhaps the best part of himself."

Unpublished work © 2006 Henry Zecher

A Statistical Analysis of Bing Crosby

For a full statistical analysis of Crosby's accomplishments, check out the Information File in the Bing Crosby Internet Museum (established and maintained by Steven Lewis since 1996) U.S.A.